So tell me more about the days…
Wake-up times vary, but most guests choose to arise at about 7am and shower ready for the 7:30am meditation.
Meditation comprises two parts. A 'body-scan' that can be used anytime during your busy day at home, followed by a chakra meditation. Each meditation session goes for about a half hour and guests will feel the benefits before they leave the retreat. Our main aim for meditation on retreats is to show people a simple, effective way to quiet their body and mind. A practice that is too complicated will be abandoned by most on returning to their daily routines. Meditation is followed by a healthy breakfast using only fresh produce bought from a traditional market. We're not going to force feed raw vegetables or make you chew on lemons. You need to enjoy breakfast. There will be beautiful fresh juices you may never have tried before and healthy organic food. If you wish to have coffee, that is your choice. Our food is like life, you have the choice to make healthy or not so healthy decisions. We're all about helping your awareness, not about forcing change.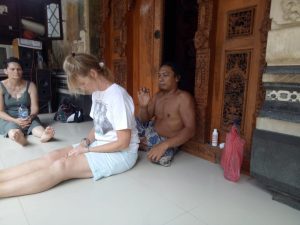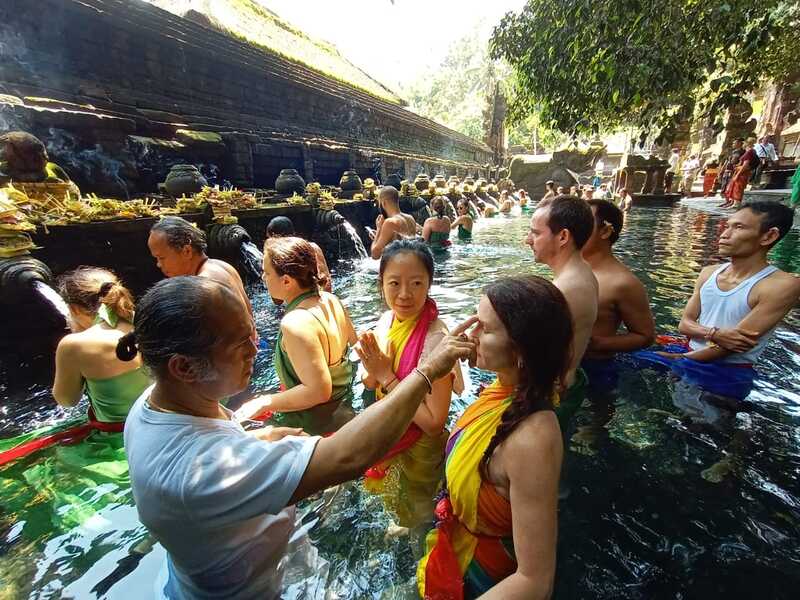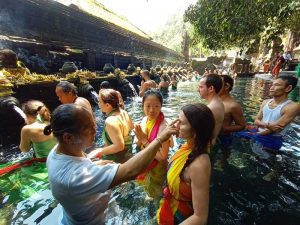 Each morning's activities will be different as we introduce you to a variety of therapies and traditional healers. As an integral part of our efforts to present to you the most authentic Bali experience; we visit a highly respected Balian Healer at his home. He diagnoses each guest and administers ancient and proven healing techniques that are truly amazing. Pak ATU Gusti is a Spiritual Healing Master who will put your mind at ease with a session like no other. Exactly what he does will all depend on what he is guided to do and where he 'sees' your need being greatest. His amazing insight and awareness encompasses your physical, spiritual and mental states. This is not some 'show' for tourists. This wonderful man offers life-changing advice and if needed, healing that really works.
The morning of our day trip to the Ubud region will be spent at Tampak Siring in the Tirta Empul Temple for a full cleansing ceremony. Holistic Retreat Bali guests will never be just tourists with a camera passing through. It is our goal to fully immerse you in a spiritual adventure that will be in harmony with what you are seeking and offer you memories and insight to draw upon for the rest of your days. Our day trip to the Ubud region continues after a delicious local lunch with rice field view, with a trip to the home of our 'listrik' healers. There is no name for, or school of learning to teach the gifts this beautiful Balinese couple possess. They have a unique style of healing which they believe was granted to them by God. They are guided by spirit to those areas in your body that need attention and love. Their bodies are charged with electrical current. When they lay hands on you, there is no mistaking the energy emanating from them and through you. At times you will physically and involuntarily jerk from this healing energy. All of this in their traditional Bali home … a once in a life time experience.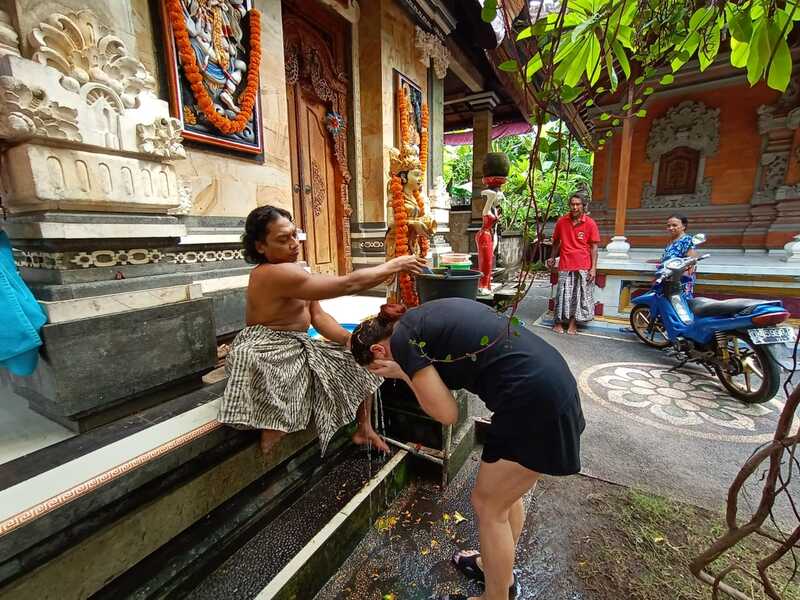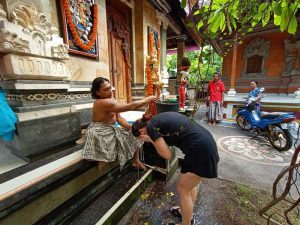 "A spur of the moment decision to join this retreat turned out to be the best decision of my life. Mitch does everything to ensure the retreat is of the highest quality & he injects his Aussie humour & candor along the way. All of the healers & practitioners had something unique to offer & each of them individually are of the highest standards to ensure breakthroughs in whatever areas of life you require. I have come away with a new family & experiences I will never forget. I absolutely loved that we went to see a Balian healer & a Listrik healer as both experiences were incredible. The visit to the Temple with Kadek informing us every step of the way was a real highlight also. As the week evolved, layer by layer healing occurred, mentally, emotionally & physically. Made provided so much love & support along with absolutely delicious, colourful & healthy meals. This is not just a relaxing retreat it is a place to dive deep into yourself & grow amid the most supportive environment. Thanks Mitch for the most wonderful week."

–   Oceana Hawkins, February, 2019 Retreat